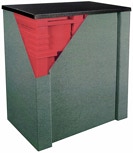 The Rolluxe Case was developed to package and organize a modular display system and all of its accessories. The objectives were flexibility in configuration and a bold design
statement. TransForm Design achieved these goals as well as superior efficiency compared with competitors' products. We also added great durability and capabilities never before offered in a packaging system.
Several unique features have enhanced the
client's reputation as the most innovative portable display company in the industry. These include a low opening for easier packing and unpacking, a top that doubles as a step stool to adjust lights and graphics, and conversion to a table after unpacking.
Industrial Designs, Product Designs, Images and Contents Copyright 2000-2019 TransForm Design. All Rights Reserved.
IN, OH, MI, IL, KY, Indiana, Ohio, Illinois, Kentucky, Indianapolis, Fort Wayne, Columbus, Louisville, Terre Haute, Evansville, Cincinnati, Chicago, Carmel, Zionsville, Fishers, Noblesville