A major telecommunications firm invented a new locating technology that it wanted to combine with a personal cellular emergency device. The goals were to make a device that could be activated easily by someone in distress, but difficult to activate accidentally. A wide variety of mock-ups and sketches were presented.
Shown above are computer-generated renderings of three of the proposed designs. The upper two designs use a translucent cover to protect the buttons. The flip-open cover has an antennae made of ion-deposited metal. The design on the left is activated by pinching the two membrane switches. This concept proved to be a very effective technique to prevent false alarms while allowing easy activation even with limited visibility, dexterity, strength or cognitive ability.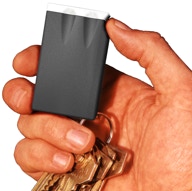 Industrial Designs, Product Designs, Images and Contents Copyright 2000-2019 TransForm Design. All Rights Reserved.
IN, OH, MI, IL, KY, Indiana, Ohio, Illinois, Kentucky, Indianapolis, Fort Wayne, Columbus, Louisville, Terre Haute, Evansville, Cincinnati, Chicago, Carmel, Zionsville, Fishers, Noblesville